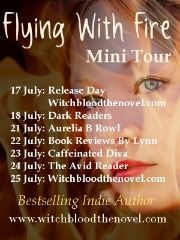 It is my pleasure to welcome bestselling Indie author, Emma Mills, back onto my blog for her mini blog tour to celebrate the release of
Flying With Fire
- you can check out the rest of the tour by clicking on the tour poster - and, oh boy, do I have a teaser for you!
HINT: Make sure you scroll all the way down since there is a giveaway too ;-)
(click to enlarge)
The blurb...
Nobody who enters Ravenwood school will ever be the same again.
Fifteen year old Brooke has been in care all her life. Now she finally has an adoptive family who don't want to send her back to The Home; but their solution for her problems is much more dangerous.
A secret boarding school for possessed children. A boarding school where any unnatural behaviour will be stamped out. A boarding school with no escape; where witchcraft is punished and vampires are murdered in the sunlight.
Brooke is the only one with the power to escape the security wards, yet she must find a way to help them all before it is too late.
Buy it now...
Released: 17th July 2014
ISBN: 9781310402968
Amazon
UK
¦
US
iBooks
Kobo
Smashwords
Nook
(keep checking back!)




Giveaway...
a Rafflecopter giveaway